...the luxury of touching the Aegean sunset
Villa Tower Resort can accommodate up to 14 persons and is fully-equipped with everything you have ever dreamt of for yourself and for your loved-ones.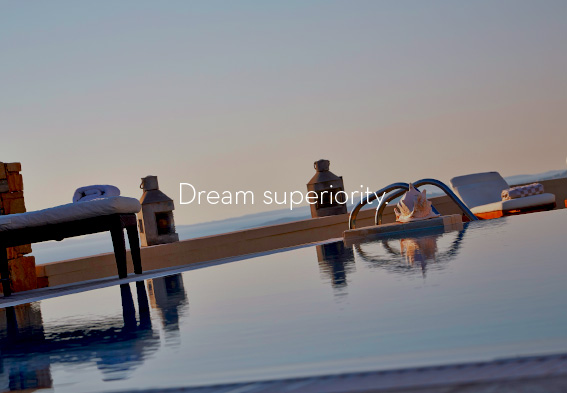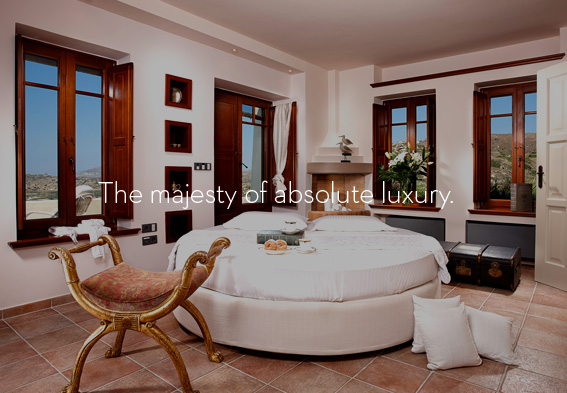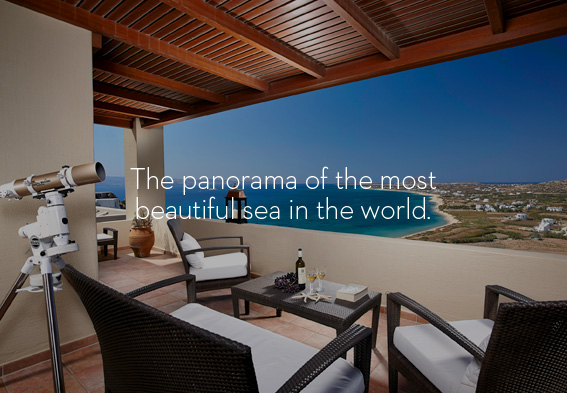 Tower Resort villa was created to provide everything! A precious jewel, built on the hill over Orkos beach, ideal for you and your friends or family that look for a perfect stay and demand an experience of top standards. Here time stands still and the most enchanting fairytale of your life begins.

The view from this elegantly graceful villa will literally take your breath away. As you distance yourself from reality, you will soon realize that the earth, the sea and the sky are integral elements of absolute happiness.

In the Tower Resort you will feel the majesty of the Aegean Sea overwhelming you as you will have the luxury to touch its sunset, travel through its sea and dream under its deep blue sky.
Ground floor:
Grande Suite with king bed , en-suite bathroom Jacuzzi &ham am, kitchen, living room with fireplace and sofas/TV satellite Dolby DVD.
The Master Suite with king bed , en-suite bathroom , kitchen , TV Dolby DVD.
2 Guest Bedrooms and large bathroom with Jacuzzi.
2 private Studio with en suite bathrooms and kitchen which are connected with the Villa.
The Laundry room & The Boiler room.
First floor:
The Lobby consists of a huge living room with dining and sitting sofas, fireplace ,home cinema /projector, the kitchenette and one bathroom.
The Pool comprises two swimming pools with water fall, perimeter veranda with sun loungers & relaxing sofas, pool bar and BBQ, Music.
The Garage, the parking, the entrance, pool bathroom.
Second floor:
Golden Suite with double bed, en-suite bathroom with Jacuzzi & shower, fireplace, roof garden & private balcony with panoramic sea view.
Facilities & Amenities:

Wi-Fi
Internet

Private
parking area

Welcome drink & fresh
fruit basket upon arrival

Private umbrella with sunbeds
at the beach paradise

The real experience
of garden paradise

Naxian Breakfast with
fresh local products

Restaurant al cart

Kitchen bar

Sea tours with
our small boat

Stunning view at Aegean sea
Plaka beach – sunset

Tour information
and activity package

Reception room

Laundry room

TV Satellite - music
& movies library

Fully equipped kitchenette
& barbeque equipment

Fully air-conditioned
villas.
Bath amenities,
iron, hairdryer

Garden relaxing chairs &
outdoor dining, pergolas, gardens

Beach towels,
beach shower

Baby cot, high chair,
children beach toys.
In the price the following are included: taxes & services / daily maid service.

BOOK NOW